Matcha Boba with Strawberry Milk
Posted by Sanne Vloet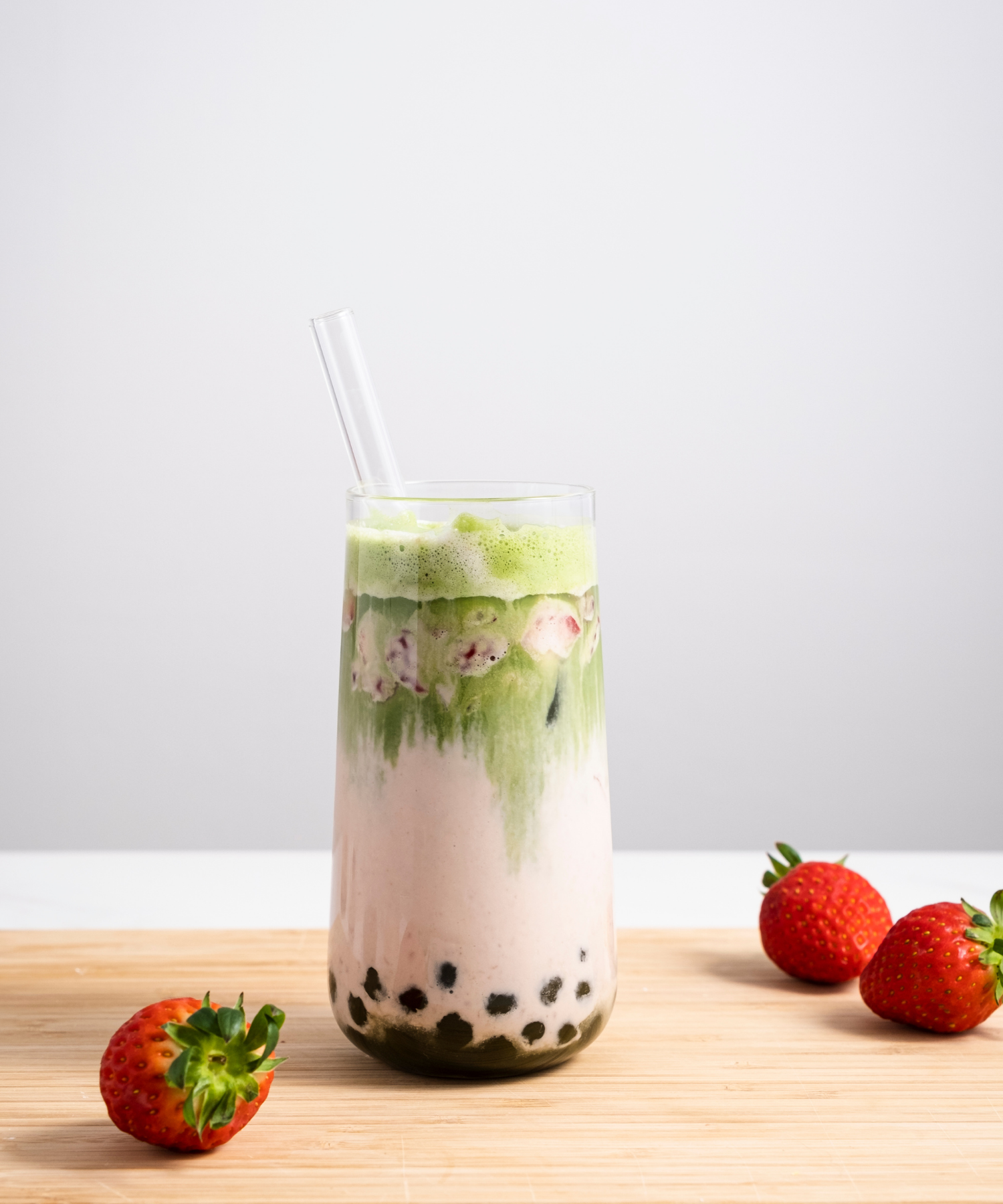 Matcha Boba with Strawberry Milk
Bring your favorite boba shop right to your kitchen. This beautifully layered drink is a fusion of a creamy matcha latte and sweet bubble tea with fresh cut strawberries. It tastes even better than it sounds. The chewy pearls are coated in sweet strawberry pureé and cashew (or any other plant-based) milk, which adds the perfect sweet balance to the earthy matcha flavor. Polish off what you're craving at the moment and freeze the rest.
INGREDIENTS 
135g (1 cup) tapioca starch, divided

30g (1/4 cup) coconut sugar

75g (1/3 cup) water
This amount makes 230g boba. Use however much you want and freeze the rest. 
6g (1 tbsp) Nekohama matcha

50g strawberry puree

1 cup cashew or other plant based creamy milk

2-3 fresh strawberries, cut into bite-sized chunks
METHOD 
Mix sugar, 30g (about 1/3 cup) tapioca starch and matcha.

Add water, mix well and microwave for 1 min. It will start to look jelly-like.

Gradually add remaining tapioca starch while kneading. It will be a crumbly mess in the beginning, but keep going! Soon you'll have an elastic piece of dough that doesn't stick.

Divide the dough into sections. Roll each into a log and cut into pea sized pieces. Roll into balls and place into a bowl, lightly dusted with tapioca starch to prevent sticking.

At this point you can freeze tapioca balls.

Bring a pot of water to a boil. Drop tapioca balls and boil for 15-20 min. Turn off the heat, cover with a lid and let them sit for 10 mins. Drain, rinse and add some honey or maple syrup. Let them cool.

Mix cashew milk and strawberry puree. Cut fresh strawberries into bite-sized pieces.

Assemble the drink - spoon matcha tapioca balls, add ice, fresh strawberry, milk and matcha. Mix and enjoy!
VEGAN - GLUTEN FREE - DAIRY FREE